Planning a wedding is hard, but you don't have to spend a fortune to make it beautiful, personal, and all-around perfect. Postcards can help!
Postcards are a classy, creative, and cost-effective way to do your escort cards, table numbers, wedding favors, guest book, and far more for your wedding day and beyond. Whether you print your own postcards or buy them from a specialty postcard shop, they can be tailored to fit any style of ceremony or reception—and with the memories they'll provide for years afterward, you'll be glad you made them a part of your day.
Here are ten creative ideas for how to make postcards a part of your wedding.
Save-the-Date Postcards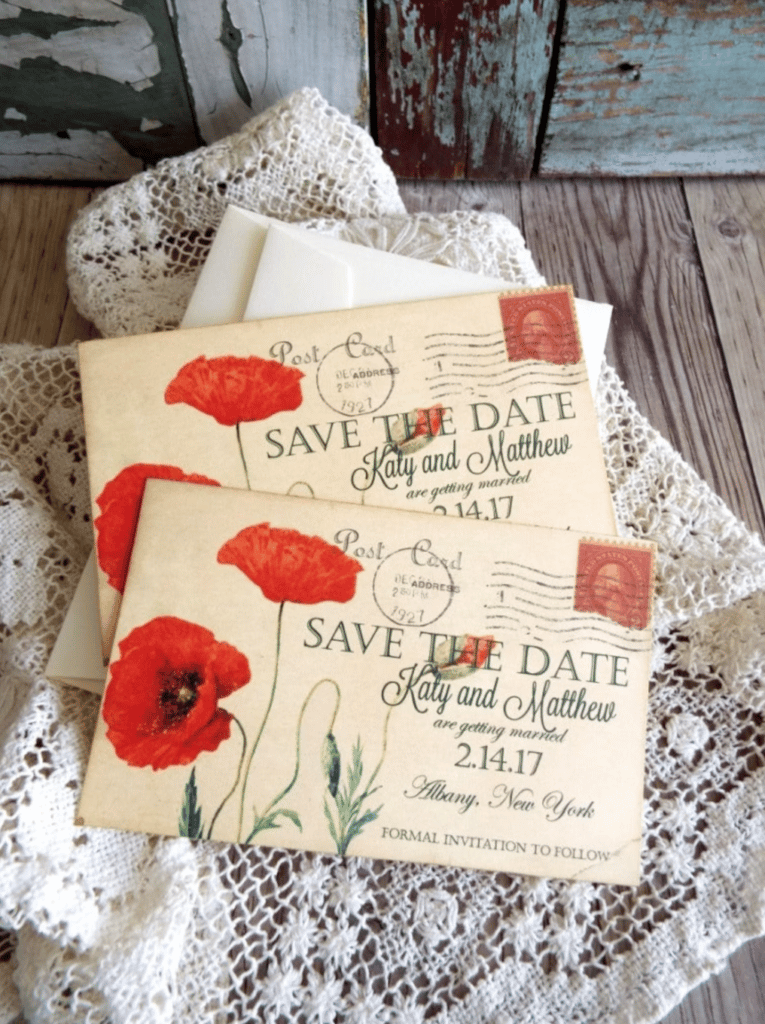 (Etsy)
Wedding invitations are often elaborate, but save-the-dates don't have to be. Postcard save-the-dates are widely popular, whether you custom-print your own through an online service or simply send out handwritten postcards from your favorite postcard set to let your closest friends and family members know you've chosen a day.
If you're keeping the wedding itself small, simple, and DIY, you can even do the invitations via postcard! One of the best weddings I attended last year began with a simple invitation handwritten by the bride and groom on cream-colored cardstock.
Postcard Invites for Bachelorette Parties & Bridal Showers
Other invites that don't need to be overly formal include invitations to the bachelorette party and bridal shower. While many people use evites for either or both, a piece of paper mail will be treasured for far longer and help remind invitees of the date as well as your registry when they put it up on their fridge. Pick a themed postcard set that matches the theme of your party and send them out!
Bridesmaid Proposal Postcards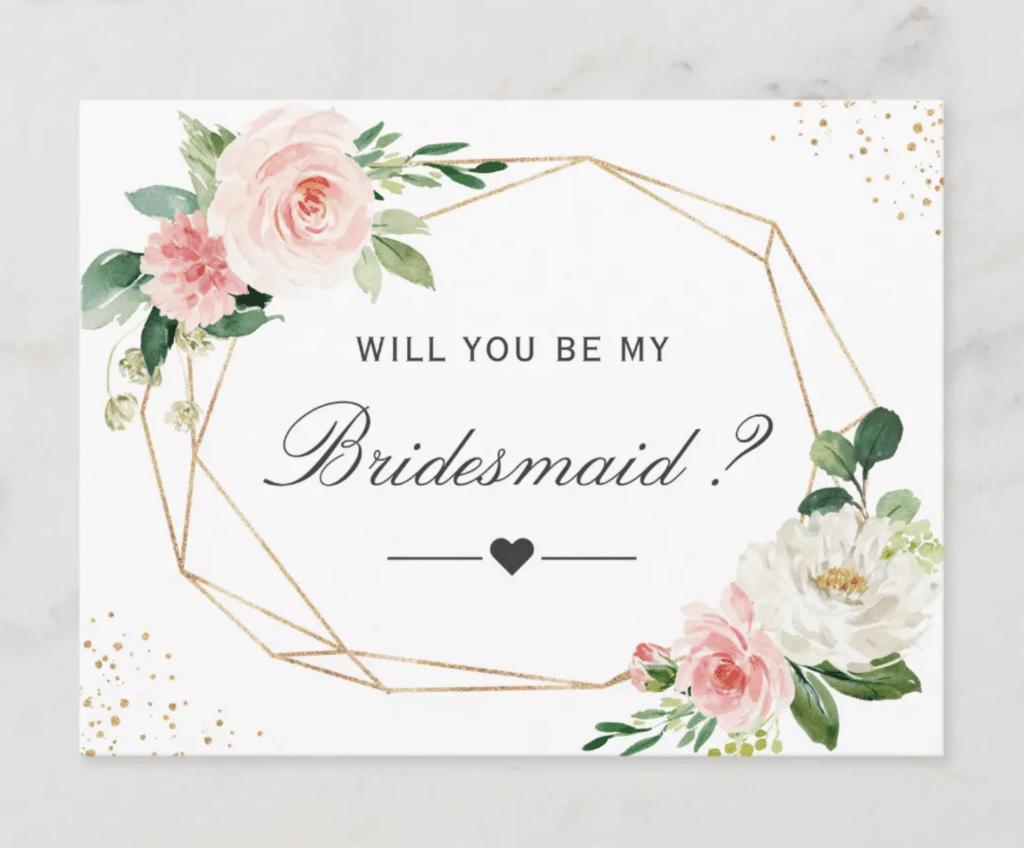 (Zazzle)
You can send out hand-picked postcards to ask each of your closest friends to be your maid of honor, best man, bridesmaid, or groomsman, too. There are many straightforward designs like the one above on the market, but you can also choose their initials, use city-specific postcards for a destination party (e.g. New Orleans or Austin), select different cards from a set (e.g. nautical or National Park postcards), or keep it simple with a cute and classy floral design.
Postcards as Escort Cards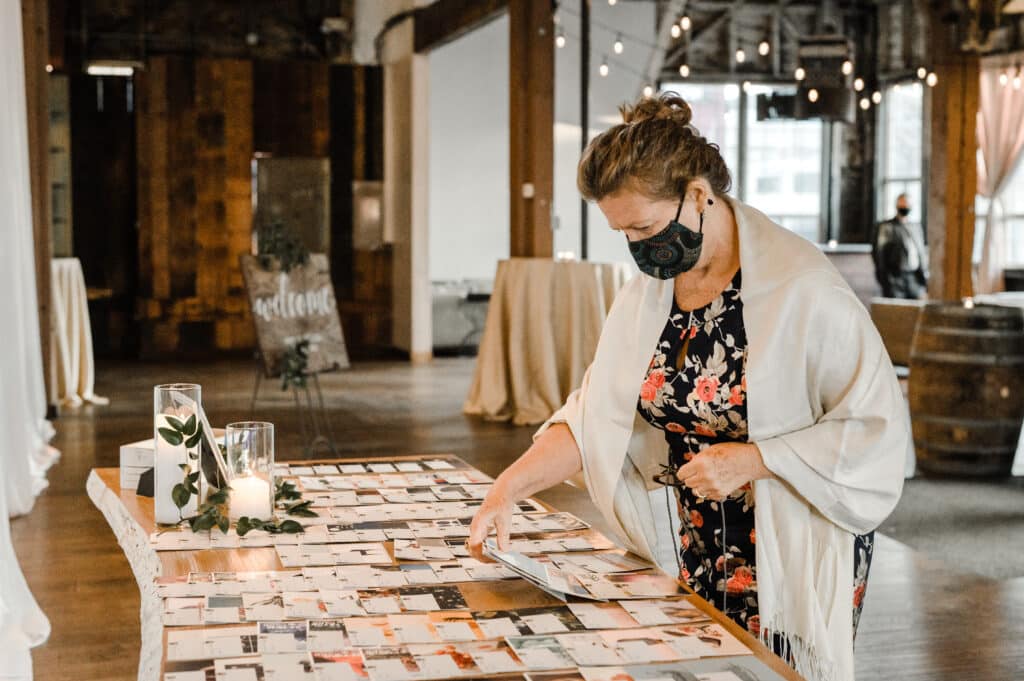 (Sasha Reiko Photography)
One of the most delightful requests I received last year was to provide the escort cards for a good friend's wedding. Escort cards, which are similar to place cards, let wedding guests know which table to sit at when they arrive to the reception.
For this particular wedding, the brides wanted each table of escort cards to be from a different postcard set, all of which reflected the themes of Pacific Northwest nature, the great outdoors more generally, and the couple's journey together. Every guest's escort card was different, but the use of themed sets for each table balanced that variety with continuity. We used 16 different sets (some faves included Botanicum, Whaleboats, and Sibley Birds), and after guests collected their postcards they were invited to write a message to the couple and drop it in a nearby basket after dinner.
The brides collected these postcards into a photo album marked with their wedding date, and have loved flipping through it to remember their wedding night ever since.
Postcard Guest Books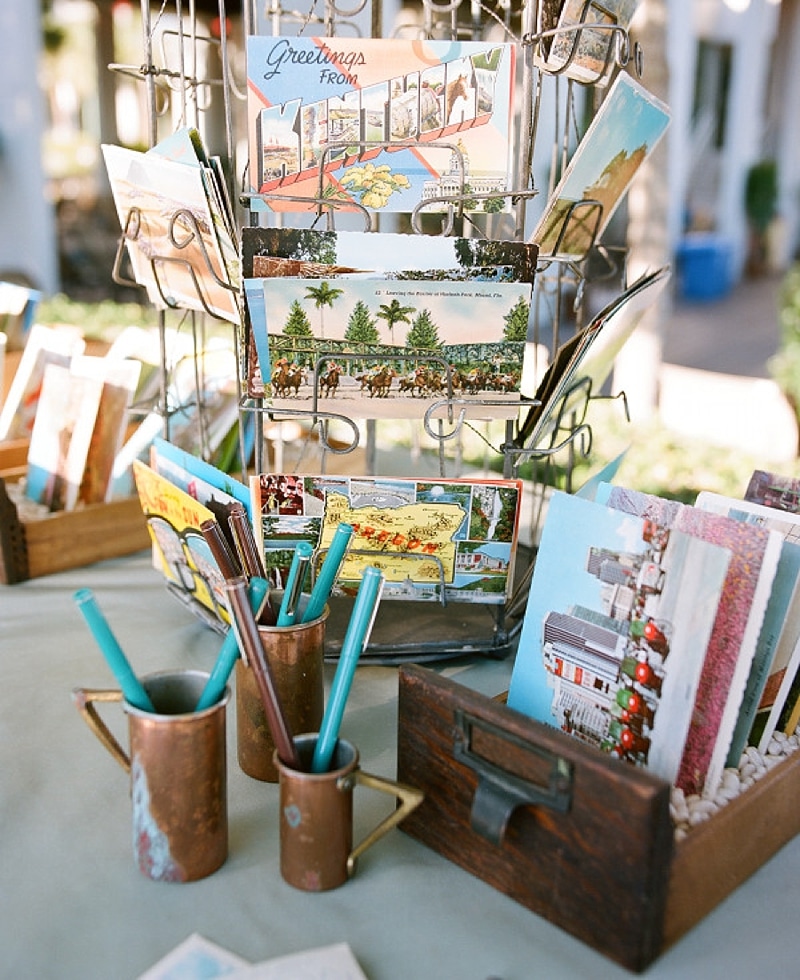 (Tidewater & Tulle)
Most weddings include a table for guests to stop by and sign a guest book—the couple may request specific recommendations, or leave it open to any words attendees might wish to share. This activity helps you start off your shared life with great ideas for date-night spots, words of wisdom, or notes to read together on or after your honeymoon.
While you can easily provide a plain journal or notebook and let people choose a blank page, their notes will feel even more personal if you set out a selection of postcards and let people pick their own style for their note—plus, this avoids creating a line at a single notebook (which often leads to people who plan to "come back later" never making it onto the page). Collect the postcards for future reading by setting out an album, scrapbook, or mailbox for guests to slip their finished cards into!
Postcard Wedding Favors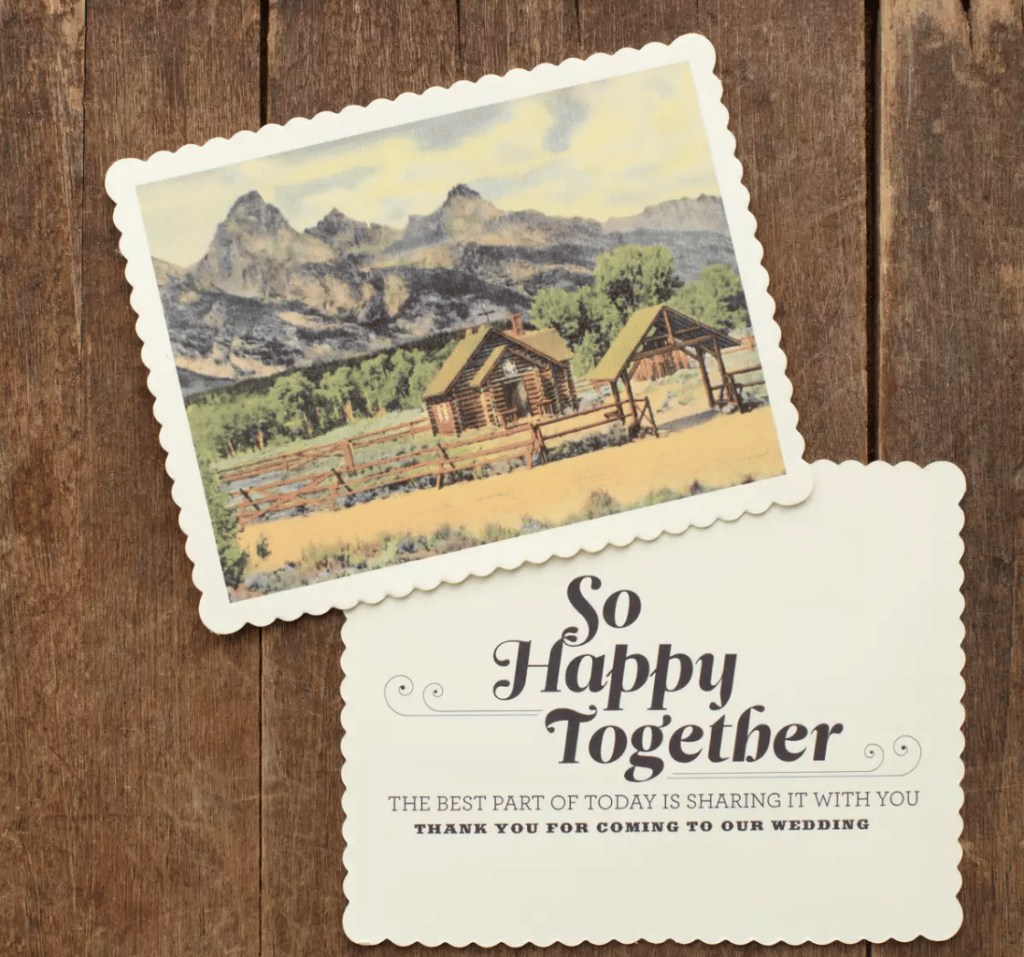 (Martha Stewart)
Rather than another pair of plastic sunglasses, take the personalization of your wedding favors up a notch and print a custom postcard set! You can have postcards printed almost anywhere, though I'd always suggest finding a small, high-quality printing business in your community to support.
Choose five to ten great photos of you as a couple (especially easy if you're already curating a rehearsal dinner slideshow or wedding website), and ask your printer to mock up a sample set. You can simply use a classic postcard back for all the cards (which the printer should easily be able to add), or have them customize each print with a sentence about the moment captured on the front. Pro tip: If you customize the backs, consider including a calendar-style square featuring your wedding date in the top right where the stamp will go!
If you're feeling especially inspired, you can take these postcards a step further and include prompts on the back for guests to fill out and mail back to you in the months after your wedding. Ideas include words of wisdom for your first year together; their favorite memories from your wedding; and so on. While many guests enjoying the wedding may not find time to sign your guest book that night, they very well may think of something they want to say after the fact, and be happy to mail it back to you then (especially if the cards are pre-stamped).
Doing this will let you relive the joy of your wedding over and over as these postcards from your friends and family find their way back to you in the coming years!
Postcard Wedding Displays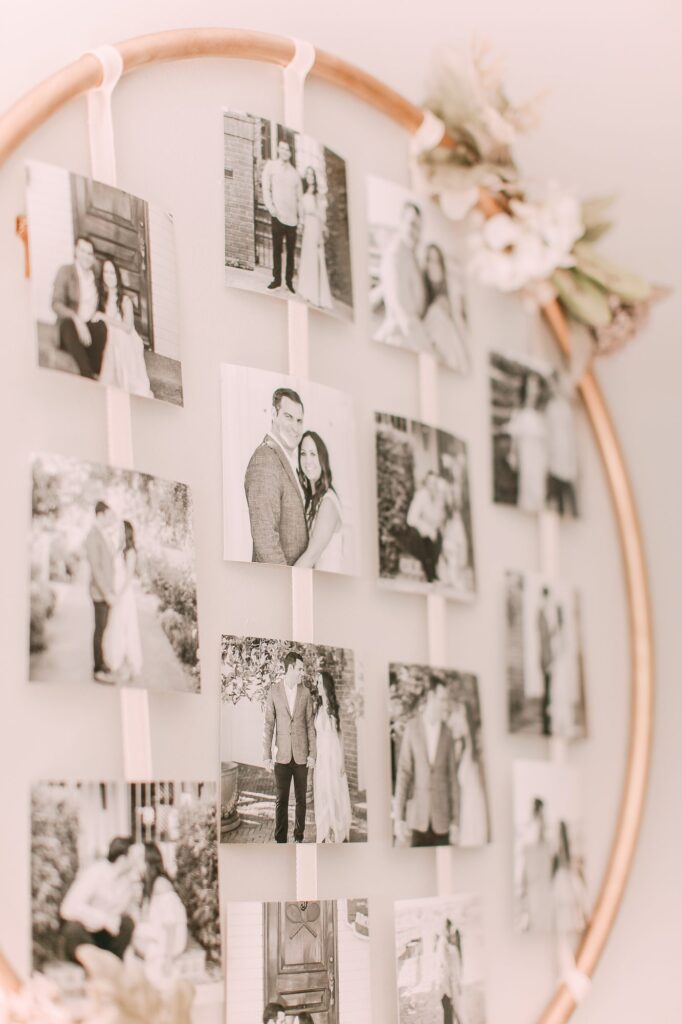 (Martha Stewart)
Many couples create a wall, table, or other display at their wedding featuring photos and mementos of the two of them together through the most significant times and places in their relationship. Whether you're a particularly well-traveled couple or simply want to highlight the different places where you met, fell in love, got engaged, and said "I do," you can also do this with postcards!
Use a corkboard to pin up a map (or simply organize things chronologically along strands of ribbon or twine), then add postcards with a note or label explaining the significance of each location. You can mix postcards with photos by pairing a note on the back of each card with a snapshot of the place (e.g. your top-of-a-mountain engagement photo, your trip to Spain), or just do one or the other!
Wedding Table Postcards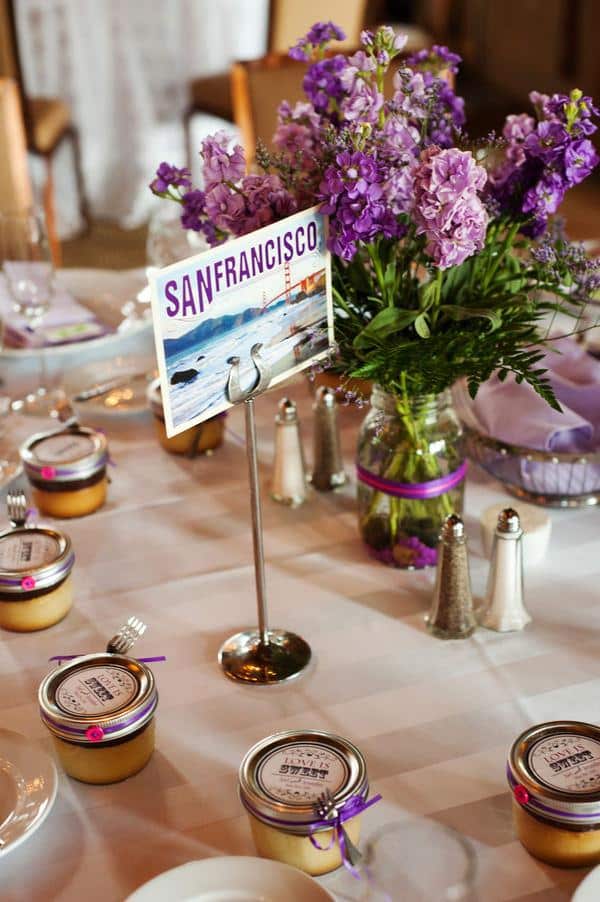 (Style Me Pretty)
Another way to bring key places or themes from your relationship into your wedding is by foregoing the traditional table numbers and labeling each table with a city or landmark from your own lives or your journey together. For instance, you can seat each of your college friend groups at a table named for each of your college towns, seat family at tables named for the hometowns (or neighborhoods) where you both grew up, and name the head table for the wedding party after the place you're actually getting married.
You can use postcards sourced from each place as the table number cards, or (if you're going with postcards as your escort cards as described above) simply choose another card from the same set to use as your table number centerpiece. If you like, you can write the list of guests seated at that table where the address would normally go, and the table number in larger characters in the message space (or vice versa!).
Easy Custom Wedding Banners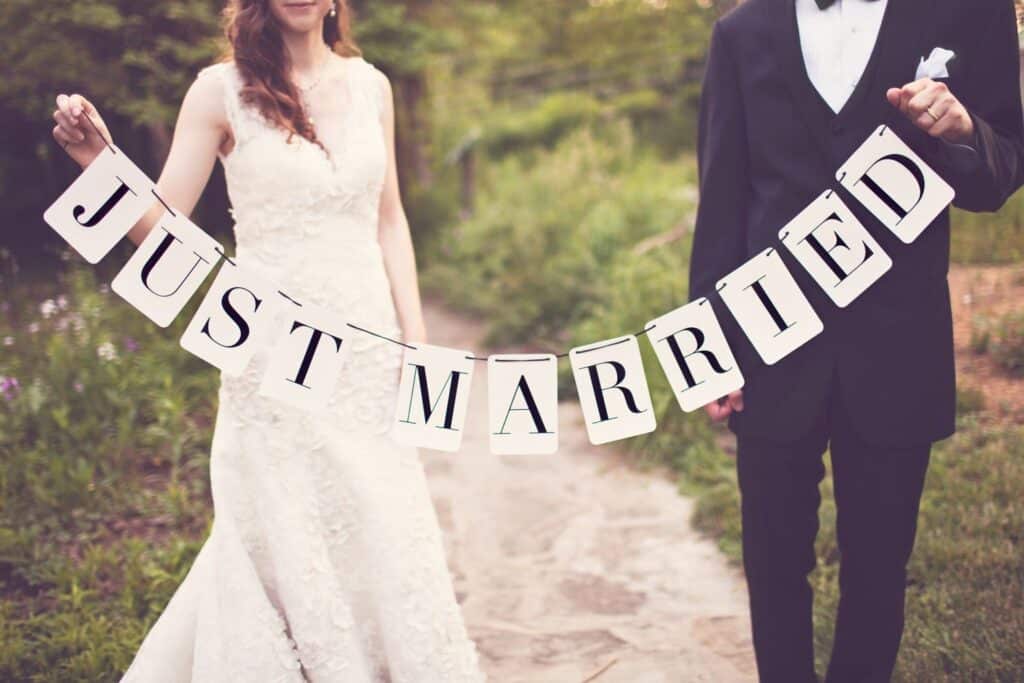 (AhaSlides)
Rather than trying to CNC custom wood signs and the like, alphabet postcards and a length of ribbon or twine make a great, cost-effective way to spell out a banner message for photos, indicate the locations of drinks and wedding favors, or simply say "Welcome." If you use mini-clothespins to attach the cards to the ribbon, you can even save and send them again after the wedding, too—perhaps as thank-you notes?
Thank-You Notes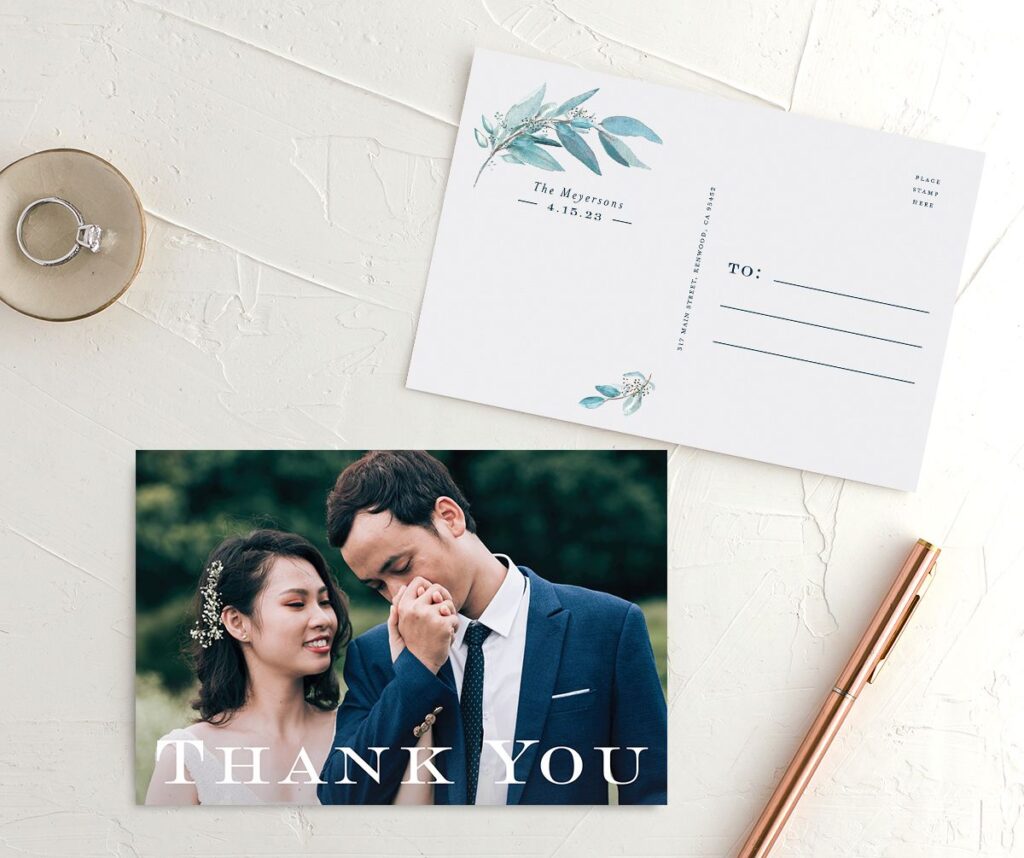 (Etsy)
Finally, the wedding is a happy memory in your past and it's time for the thank-yous. Keep them simple! You've already spent a ton of time and money on planning and putting on the event, and your main focus should be on relaxing and enjoying your married life. Rather than worrying about creating fancy cards that mirror your invites, use short-and-sweet postcards to send your words of thanks for their presents and presence. Not only are they cheaper to mail, you'll have less space to fill with handwriting than you would with a standard thank-you card.
We love the idea of custom-printing these with a keepsake photo or photos of your wedding day, which provides one last thoughtful memento for your guests—we guarantee those postcards will find their way onto your attendees' fridge, where they will likely stay for months or years to come.
Searching for the perfect postcards for your wedding? Check out the themed collections in our postcard shop!