About The Postcard Maven
My name is Brett, and I love sharing postcards because I believe they're the easiest way to make someone's day!
The Postcard Maven is a small woman-owned business focused on curating and sharing the best postcards on the market.
It began in 2018 as the spark of idea while spending a year traveling the world with my life partner and business CTO, Phil.
We had so many amazing experiences as we traveled that I knew I would forget innumerable details without writing them down. So I started sending myself a postcard from every place we went, and on the postcards I would write a list of my favorite memories from that place.
I had so much fun searching for the perfect postcard from each place that at one point I told Phil, "I wish I could just quit my job and become a full-time postcard maven!" It was mostly just a funny thing to say.
I sent myself 33 postcards that year, but when I arrived back home I learned that two of the cards had gotten lost in the mail somewhere between the Czech Republic and the U.S. After waiting for awhile to see if they would materialize (I'm still sort of waiting to see if they will!), I went online in hopes of buying two replacement postcards to complete my collection.
After searching for several hours, I had given up on buying something generic online and decided to start my own small postcard business—and become a postcard maven after all!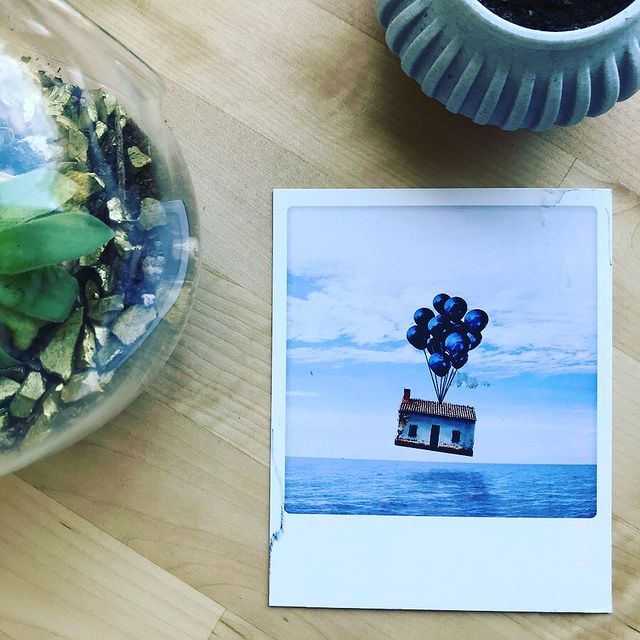 Oslo
One of my favorite memories from Oslo in the summer was taking a ferry across the water from downtown to an island called Hovedøya.
Quality, variety, and pricing transparency are what set my postcards apart.
There were a few frustrations in my own experience shopping for postcards online that I wanted to try to remedy in starting my own shop.
First, I was disappointed by what was available—or more accurately, not available. While you can find a wide variety of unique postcards in almost every city, town, tourist destination, and gift shop on the planet, only a sliver of the hundreds of thousands of options at any given time are available online—and many of the ones that are available tend toward the cheap and generic.
Second, a lot of the best postcards available online are sold in large sets of 20, 50, or 100 similar or identical designs. While these postcard sets are wonderful, and exist to help publishers make money on selling an otherwise very inexpensive item, I personally love having a wide variety of designs and getting to pick out the perfect postcard for each person I write to. I thought others might enjoy that same opportunity.
Third, many online postcard shops list their postcard prices at a dollar or less, but charge several times what that postcard is worth to ship it to the buyer at checkout. For my site, I chose to offer free shipping on every order and simply list the full price you'll pay for each postcard up front. And for any order of five postcards or more, which helps offset my own cost of providing that free shipping, I also add a 25% discount to the entire order automatically at checkout.
More than simply selling postcards, I strive to offer a way for people to rediscover the myriad joys of slower, more intentional communication.
Postcards are such a delight to find, write, mail, and receive! In my opinion, there are few better ways to spend a cozy afternoon than with a fresh cup of coffee writing leisurely postcards to your family, friends, and favorite people. It's even better if you can remember to turn off your phone and enjoy a moment of detox from its insistent, incessant distractions.
I write to local small businesses I appreciate; people I haven't talked to in ages; and foster girls who don't tend to receive a lot of mail. I've sent postcards to my local representatives, postcards to strangers around the world, and postcards that have helped to repair fraught relationships.
They don't have to be long, or clever, or sentimental. Sometimes all I add is a doodle, an inside joke, or a single sentence. But no matter how mundane my postcards sometimes feel as I drop them in the mailbox, the single most common thing I hear from the people who receive them is, "Your postcard made my day!" 
Sure, I could send the same message via text or social media—it'd be faster, cheaper, and easier to get a reply. But there's something about those same words on paper that makes them mean a whole lot more. It lets someone know they're worth the time it took you to send a real message—and it doesn't make them feel like they need to do anything for you in return right away, or even at all. 
I may not get a quick reply back the way I might with a text, but more often than not, I see that postcard hung up on my friend's fridge the next time I go over to their place. There's a good chance they'll save and enjoy looking back at it for months or even years to come—and that's something people just don't do with a text.
So take a look through the postcards in my shop, check out my postcard subscriptions, have fun picking out the perfect design to send, and remember that with a few minutes and a postcard, you always have the power to make someone's day!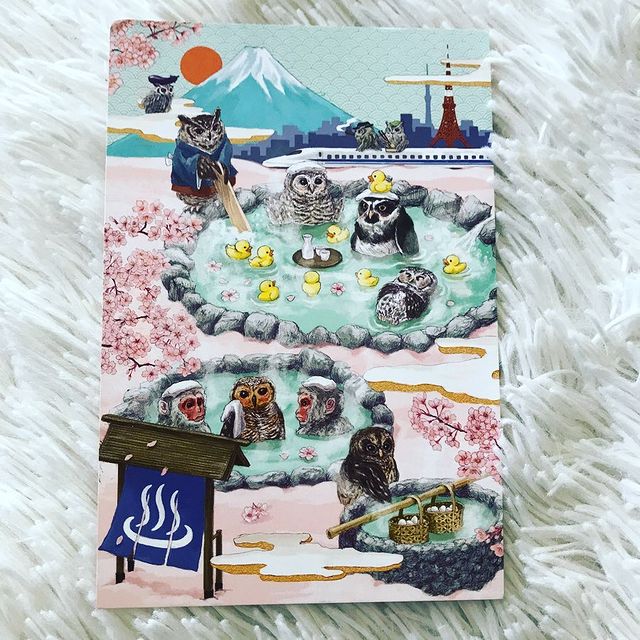 Kyoto
One of my favorite memories listed on this owl postcard from Kyoto was visiting a tiny hidden bar called Jazz Spot Yamatoya. It was owned by an octogenarian couple with the most amazing collection of vinyl I've ever seen.