Thanks to everyone who subscribed in March, which was my largest send yet—to awesome people in 13 states plus Washington, D.C.! Below I've outlined a bit of information on the cards in each subscription tier, which are cumulative (i.e. five-card subscribers receive all the postcards from the three-card subscriptions plus two more, and so on).
If you're a March subscriber, I'd love to hear your feedback on the cards you received in the comments (or via postcard, of course): Let me know which cards were your favorites, if there were any you didn't love, and if there's anything you'd like to see included in future sends!
3-a-Month Postcard Subscription
Post-Punk Postcards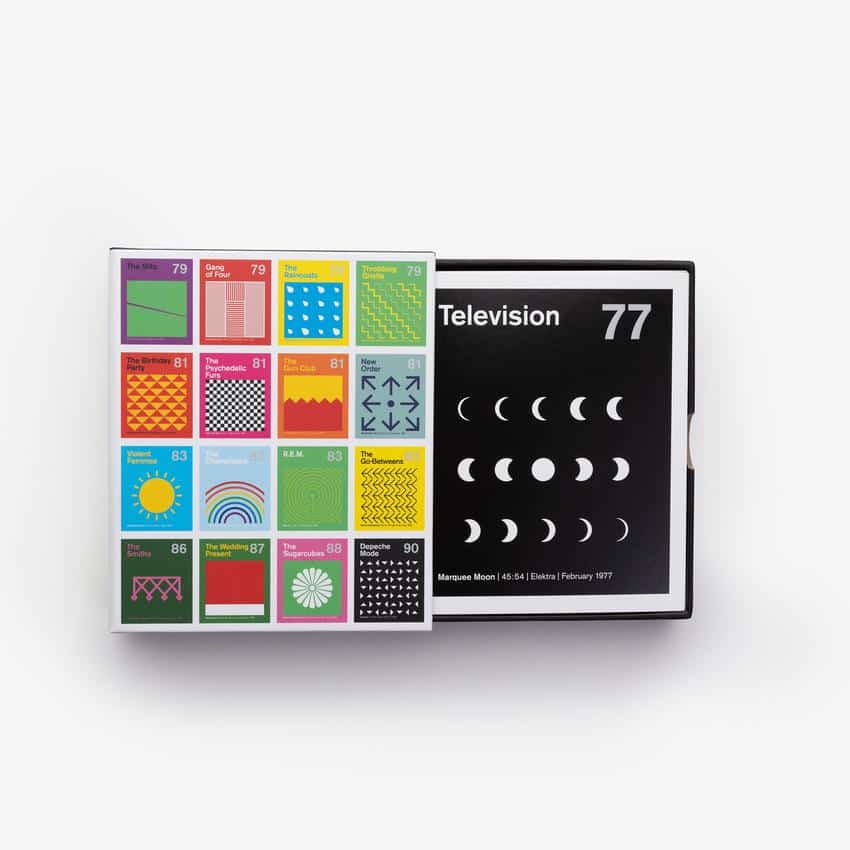 Publisher: Potter
Artist: Dorothy
Origin: Liverpool, U.K.
Postage: Postcard stamp
First off, I'll admit—I have never gotten into punk or post-punk music, but I absolutely loved the bright colors and bold designs of these postcards, which were created by UK-based art studio Dorothy as a stamp art project and republished in the US as a postcard set by Potter. From widely-known names like The Smiths, R.E.M., Devo, and Depeche Mode to lesser-known but still seminal acts that shaped this unique subgenre of rock along the way, the cards feature plenty of info about each album depicted on the back of the card, providing something for everyone regardless of your musical preferences. I loved the record-sleeve stamp space too—so clever!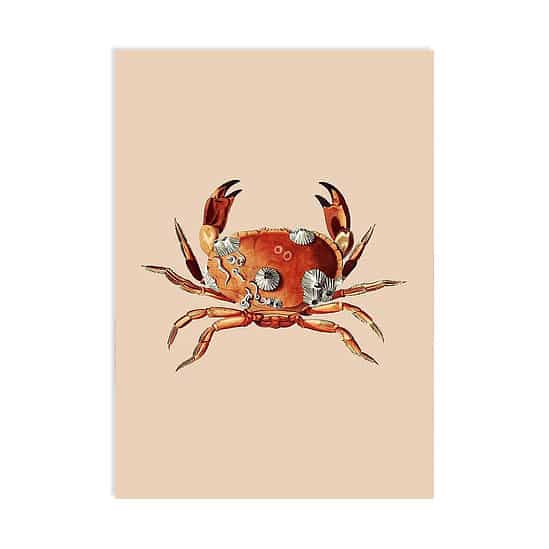 Publisher: 30×40
Origin: Frankfurt, Germany
Postage: Postcard stamp
I fell in love with these postcards the moment I saw them: Equal parts ethereal and irreverent, they're super-sturdy, printed on recycled paper, and so streamlined in design that it's pretty soothing just to look at them. 30×40 is a one-woman operation, and the mix of designs I chose for subscribers features a smorgasbord of birds, several sea creatures, and one adorable hedgehog. I think my favorite thing about these cards might be their non-sequitur titles, which include "Get Free," "It's Tricky," "Time for Heroes," and the wonderfully inexplicable "Grizzly Bear."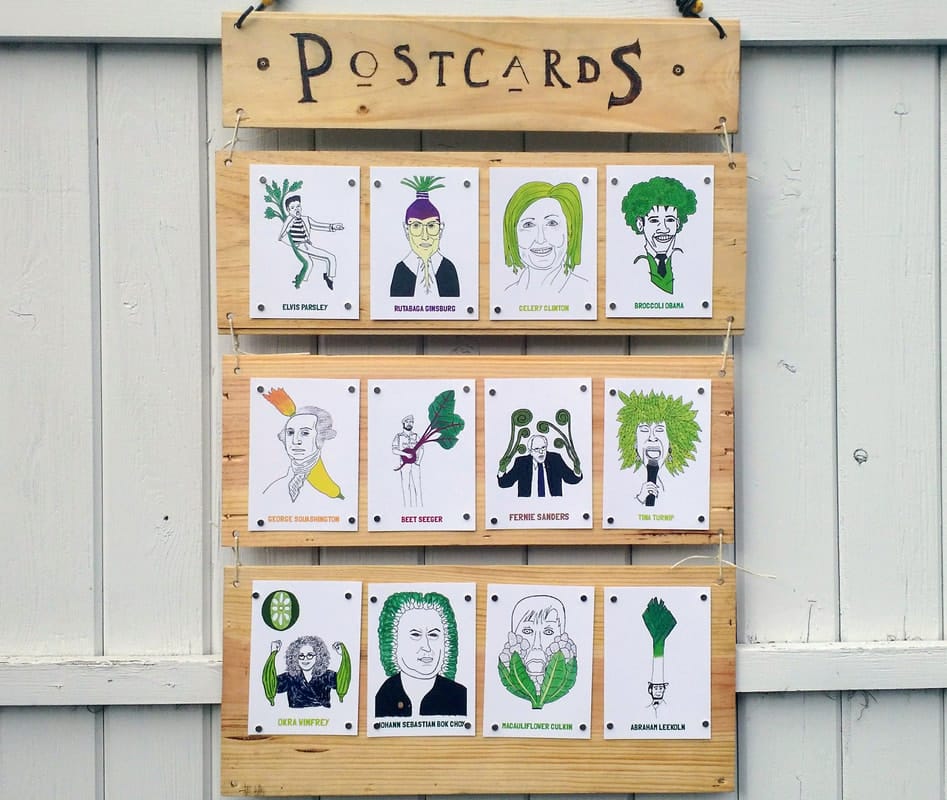 Publisher: Rutabaga Bodega
Origin: New Orleans
Postage: Postcard stamp
These cards were another immediate yes from me when I saw them—maybe it was just that we could all use a laugh these days, but I found these veggies crossed with artists, musicians, and politicians hilarious. In the words of Cheryl Nunes and Annie Moore, the founders and vegetable farmers of River Queen Greens in NOLA:
"One result of spending long days out in the field growing vegetables is a brain full of vegetable puns. What started a few years ago as a feature for our (former) farm's hand-drawn weekly CSA News Zine has now morphed into Rutabaga Bodega, a farm-inspired Etsy shop and market booth selling vegetable celebrity pun T-shirts, onesies, tea towels, and cards."
Just a few of my personal favorites: Okra Winfrey, George Squashington, Rutabaga Ginsburg, and Alexander Yamilton. Which did you end up with?!
5-a-Month Card Postcard Subscription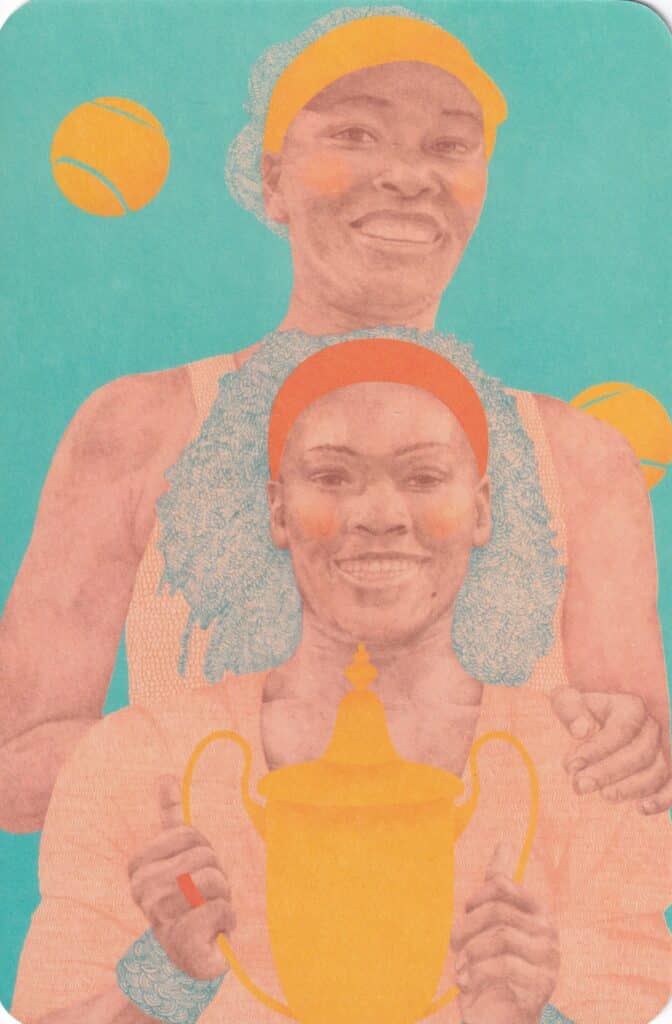 Publisher: Clarkson Potter
Origin: Kickstarter
Postage: Postcard stamp
For Women's History Month, it only felt right to include some postcards featuring bad@ss women from around the world, all illustrated by a diverse array of female artists. From Ada Lovelace to Maya Gabeira to Zaha Hadid, these women were and/or are champions, leaders, creators, pioneers, and warriors who made their marks on history in many different ways.
The postcard set began as a set of books called Good Night Stories for Rebel Girls, which were originally published thanks to a Kickstarter campaign that broke several platform records, and have since been translated into 47 languages.
The backs of the cards include excerpts from those books, as well as biographical information about the women featured on the front. I always appreciate Clarkson Potter postcard sets for their super-sturdy paper, print quality, and rounded edges that keep the cards from arriving with bent corners.
Moody Scrolls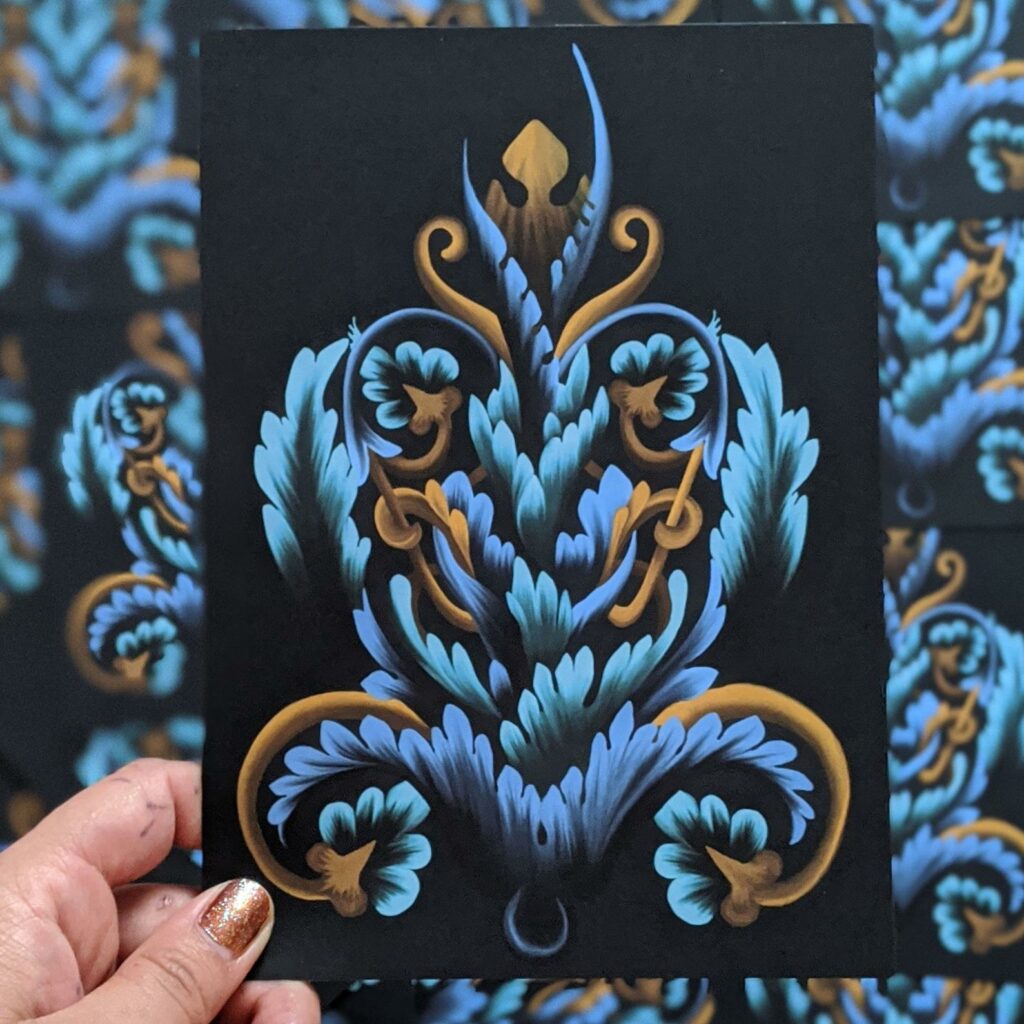 Publisher: The Alcove Window
Origin: Duarte, CA
Postage: Letter stamp
These postcards arrived from California just in time to be included in the March send, and I was so happy they did! I love the decorative swirls and curls of teal, forest green, and purple across the fronts; with the depth of the dark background, even the softer colors pop. Oversized postcards tend to have less variety available in terms of design, simply because they're made less often, but I think the card size actually benefits this particular design in helping it feel all the more immersive.
10-a-Month Postcard Subscription
Banana Bonanza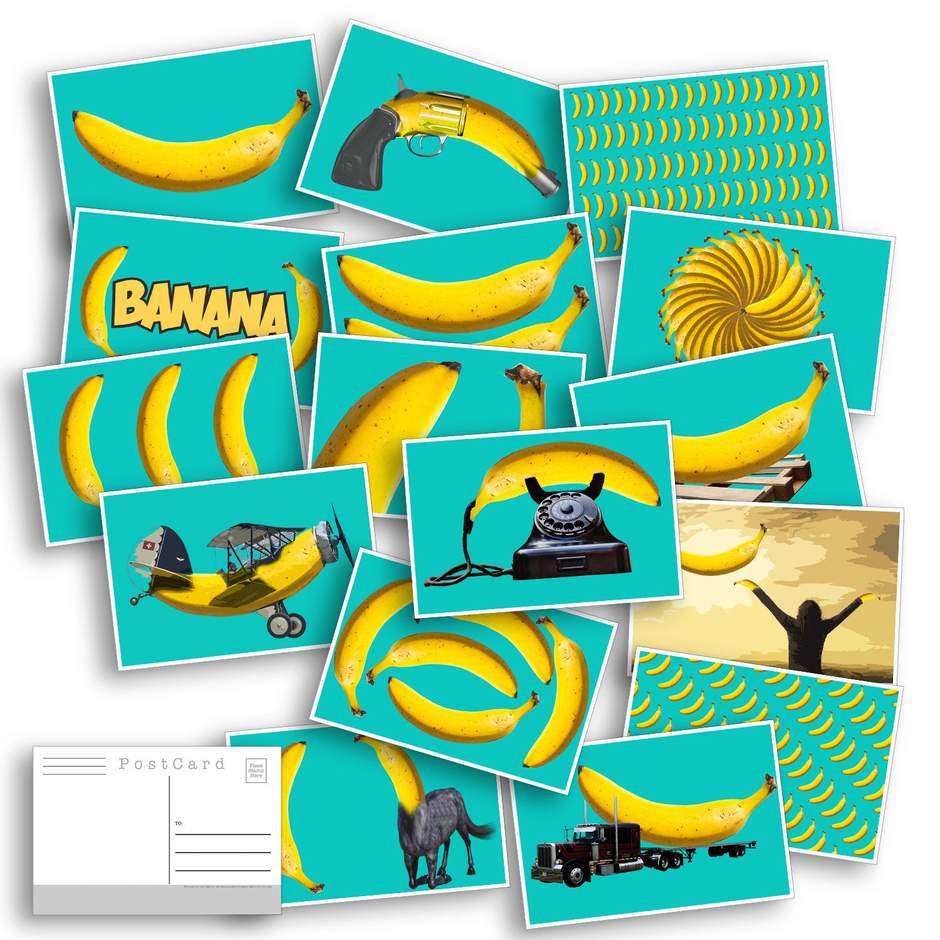 Publisher: NeckahNeck Forest Arts Collective
Origin: West Hartford, CT
Postage: Postcard stamp
I first learned about NeckahNeck after receiving one of their designs from a fellow Postcrosser I've been trading music recommendations with via postcard—that design was nothing like the set of off-the-wall banana postcards with aquamarine backgrounds that I discovered when I finally landed on their website, but that was the first set I knew I had to have (keep an eye out for more from this crew in the future—I really enjoy that they've decided on discowoods.com as their domain name). These postcards were designed by NeckahNeck's Joe McCarthy.
Fotofolio Photographs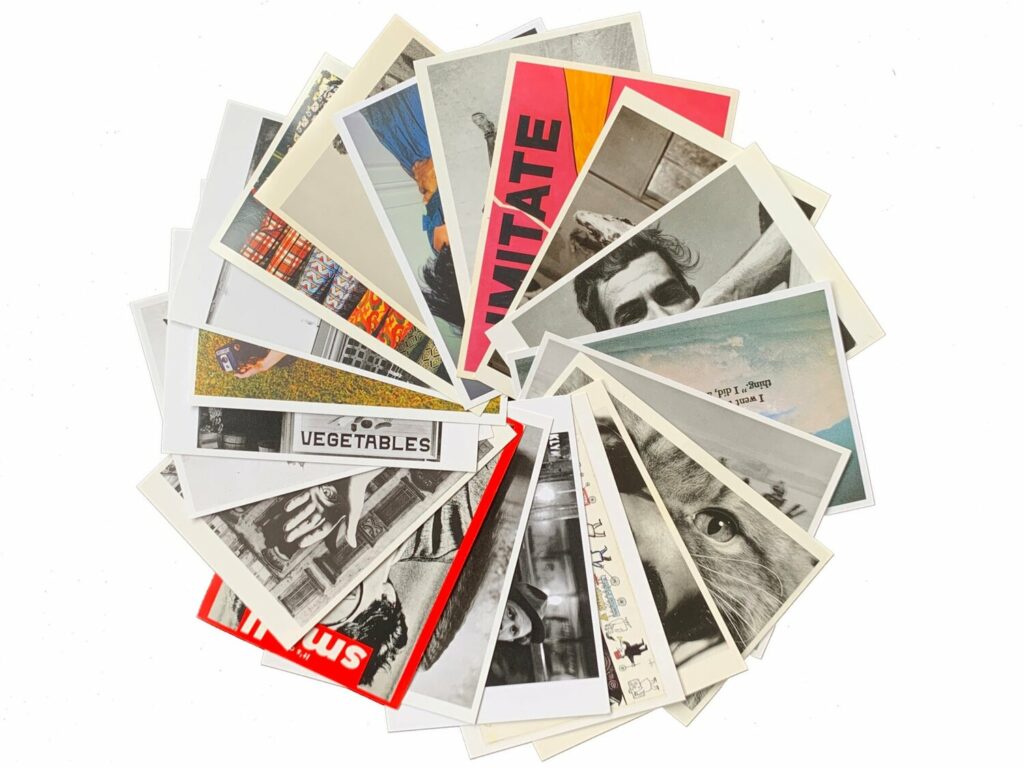 Publisher: Fotofolio
Origin: New York City
Postage: Postcard stamp
In 1975, Fotofolio "began publishing the history of photography in postcard format." Since then they've worked with a who's who of 20th and 21st century artists and photographers including Annie Liebovitz, Robert Mapplethorpe, Jean Michel Basquiat, R. Crumb, Nan Goldin, Richard Avedon, and many more. The subjects chosen were entirely random, and I think that's part of what makes these photo cards so fun.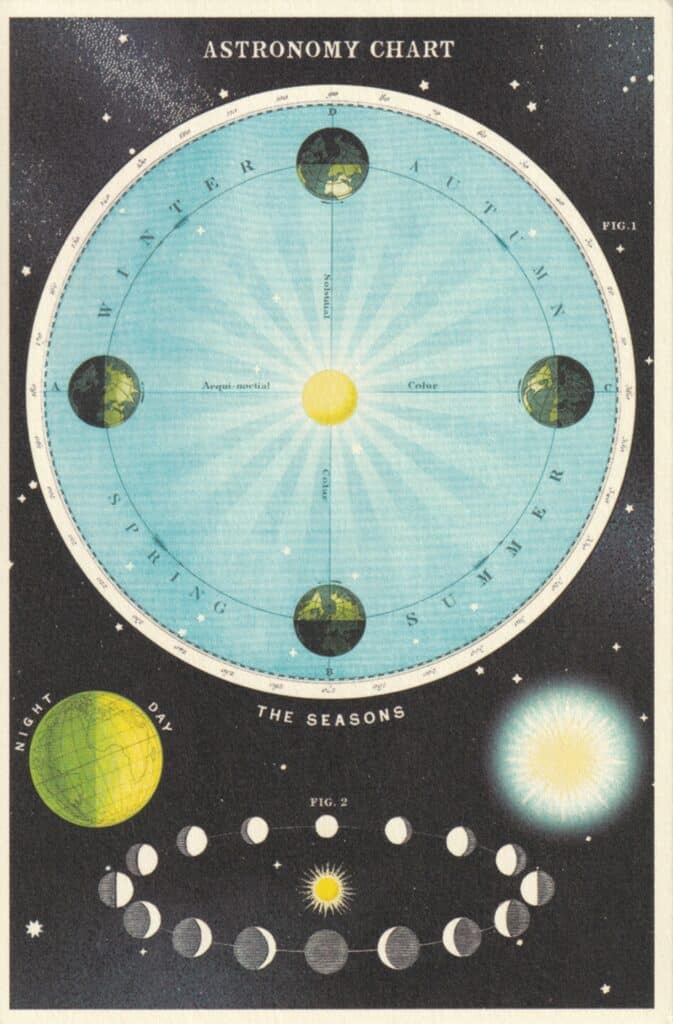 Publisher: Cavallini & Co.
Origin: San Francisco
Postage: Postcard stamp
The Cavallini collection archive "spans hundreds of years and preserves a vast variety of both everyday ephemera and rare, iconic images," which has helped them become the powerhouse publisher of postcards and paper ephemera that they are today.
A note: If any of your Cavallini postcard corners are a tiny bit blunt, please forgive the imperfection—every one of their postcard sets ships in a tin box with rounded corners, and the postcards slide up against them in transit, which makes it virtually impossible to find a Cavallini postcard in perfect condition (a very frustrating factoid given that they make such nice postcards)!
Greetings From…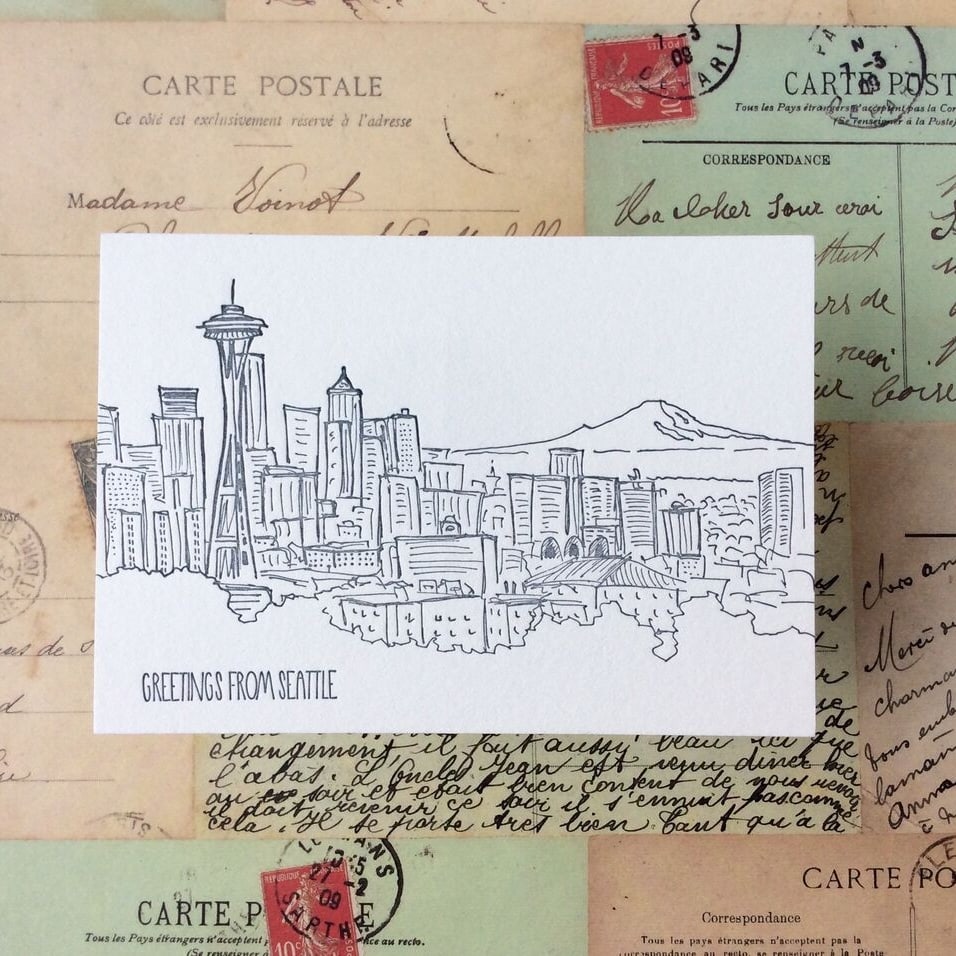 Publisher: Albertine Press
Origin: Cambridge, MA
Postage: Postcard stamp
These petite letterpressed postcards charmed me right away—I love the feel of the 100% cotton paper (which is also eco-friendly), the city skyline designs, and the different ink color for each different city. Those for whom I was able to match a card to their location got a greeting featuring their home city; for the two locations that a) Albertine Press doesn't offer a design for or b) I haven't purchased yet, you'll find a greeting from Seattle per The Postcard Maven's location! From owner Shelley Barandes and her team of seven:
"Our studio in Cambridge is home to many antique presses of varying vintage and function; table top platens for demonstrations, a Heidelberg Windmill for large scale production, a C&P "jobber" we use for die cutting, and a lovely little Vandercook #4 proof press. Our inks are hand-mixed and many of our machines are hand-fed. However, we take full advantage of motorized presses and photo-polymer plates, marrying centuries-old techniques with modern technology."
Mountains & Villages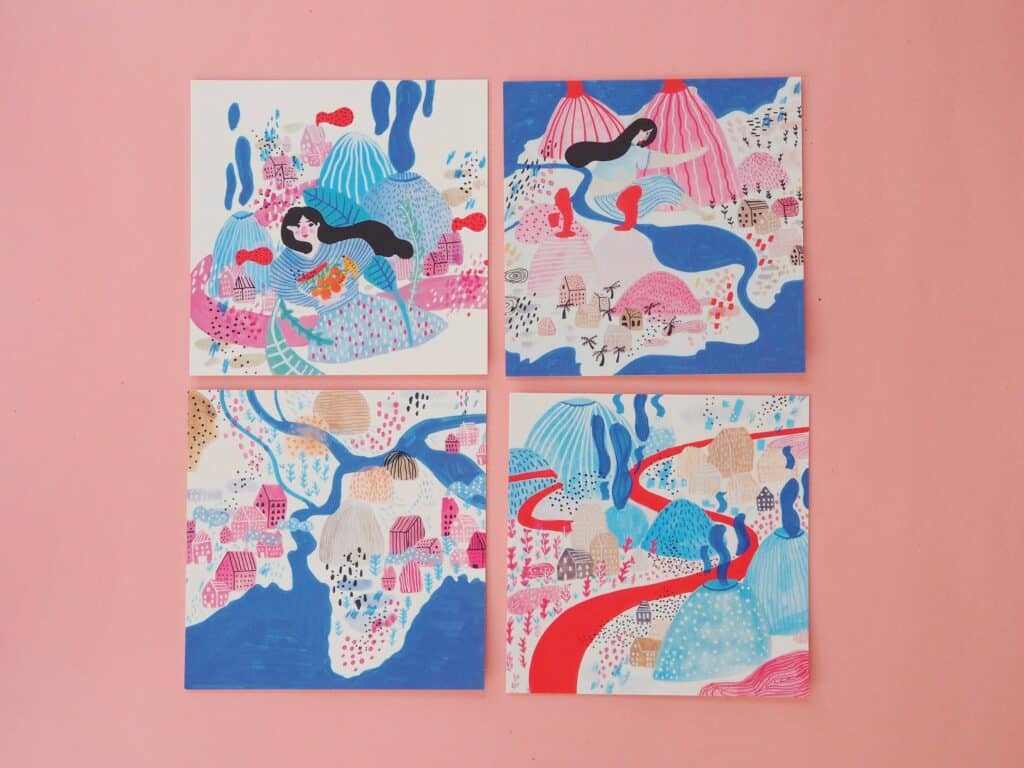 Publisher: Claudia Melchor
Origin: Switzerland
Postage: $0.75 (two-ounce stamp)
Originally from Spain, Claudia Melchor is an architect, designer, and all-around creative currently residing in Switzerland. In between those two she's lived, learned, and worked all over Europe and beyond, with stops in France, Germany, Denmark, and The Gambia. Her work features bright colors, organic shapes, and people, places, animals, and buildings of all kinds.
Normally each month's subscription shipment only includes one oversized postcard, but these designs were so beautiful that I couldn't wait to send them! The card requires a two-ounce stamp because it exceeds the 4.25" maximum height for a postcard stamp and is also square, which adds a non-machinable surcharge of $0.20.
I'm already looking forward to April's cards—among other things, get excited for my first postcard collaboration with a local artist. Thanks for reading and happy sending! —T.P.M.